There's a lot of media news to wrap up 2013, and not all of it is good, unfortunately…
HEGAN PASSES ON: Long-time Cleveland Indians broadcaster Mike Hegan passed away Christmas Day in South Carolina.
MLB.com Indians beat writer Jordan Bastian has the story: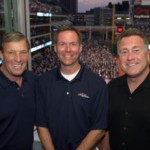 Mike Hegan spent most of his life around the Cleveland Indians. He shagged fly balls in the outfield of Cleveland Municipal Stadium as a boy, played in the ballpark as a visiting big leaguer and went on to call some of the franchise's most memorable games as a broadcaster.
The Indians lost a close friend on Christmas morning.
With family by his side on Wednesday, Hegan passed away in his home of Hilton Head, S.C., after a battle with an untreatable heart condition. He was 71.
Hegan was a vital part of the Cleveland Indians broadcast team, spending 23 years in the team's radio and TV booths…starting as a color commentator on long-time Indians TV home WUAB/43, and most recently alongside radio voices Tom Hamilton and Jim Rosenhaus. (The photo is of those three men in the booth, courtesy: Cleveland Indians via AkronNewsNow.com)
Health concerns prompted Hegan to retire from the Indians radio team after the 2011 season, as we reported at the time.
The 69 year-old Hegan gets honored by the Cleveland Sports Hall of Fame on Thursday, and by the team itself in a ceremony before Saturday night's second game.
But after 50 years associated with professional baseball, as a player and a broadcaster, Hegan isn't going into retirement entirely.
In a news release, the team says he'll become "an alumni ambassador".
As noted above, despite his long association with his hometown baseball team, Hegan played for a number of teams, including the Yankees, Athletics and Brewers – but not for the Indians.
But his father, Jim, was a long time catcher for Cleveland…and was a member of the 1948 World Series championship Indians teams…
TRIBUNE SOON: We'll soon be able to officially write "Tribune Fox affiliate WJW/8″.
That's because the FCC has given the green light to the Chicago-based media giant's acquistion of Local TV Holdings, LLC, which bought the Cleveland Fox affiliate after it was owned by the network itself.
It's been a long trip for the folks on South Marginal(/Dick Goddard Way) since the 1990s.
WJW had been owned by Storer Broadcasting for many years, and was Cleveland's dominant CBS affiliate.
By the time New World Broadcasting bought the station in 1995 and flipped it from CBS to Fox, WJW had been through a succession of post-Storer ownership that made the buy possible.
Of course, New World itself was acquired by the Fox network, and that made "Fox 8″ an owned-and-operated station until the sale to Local TV.
Local TV was already closely aligned with Tribune, and many called it "Tribune Jr.". The companies shared some services already in an arrangement set up by now-former Tribune CEO Randy Michaels, who went from Local TV to Tribune's top post at the time.
Thus, few changes are expected as WJW and other Local TV owned stations officially join the Tribune fold…
TRIBUNE SIDE EFFECT: With its acquisition of Local TV set to close within days, Tribune has already been negotiating carriage deals for those stations with video providers.
And the result of those negotiations has borne fruit, which means WJW and other Tribune stations won't disappear from Time Warner Cable systems.
The two parties reached a "multi-year deal" to keep Tribune stations, and the soon-to-be-acquired Local TV stations, on TWC systems.
That's very good news in Northeast Ohio, where Time Warner Cable is the most prominent cable operator by far…
WHERE'S JASON: We've gotten a note or two about former Raycom Media CBS affiliate WOIO/19 "19 Action News" meteorologist Jason Handman, who left Reserve Square earlier this year.
Jason announced on his Twitter account earlier this month that he'd be forecasting weather in Philadelphia over the holidays at Fox O&O WTXF/29:
Excited to announce I've joined @FOX29philly as the Fill-in Weather Anchor. You can catch me starting December 14!
We missed the initial announcement when it showed up on our own Twitter timeline, but we have caught numerous updates since then.
And the wording on Jason's social media accounts and personal website would indicate that he'll be filling in at "Fox 29″ in Philadelphia past the holidays…
MOVE IN HEALTH: Akron General Medical Center's sponsored radio show, "The Akron General Good Health Hour", has aired on Rubber City Radio news/oldies WAKR/1590 Akron for nearly 5 years.
Starting January 4th, it gets a new name and a new 50,000 watt home.
The Beacon Journal's Cheryl Powell has more on the show's move north:
The hourlong show hosted by Dr. Debbie Plate is moving from WAKR (1590-AM) to WTAM (1100-AM) out of Cleveland starting Jan. 4.
The Akron General Health Connection radio show will air at 7 every Saturday morning.
Of course, Dr. Plate and company won't lose any coverage in the hospital's hometown of Akron, as the 50,000 watt WTAM signal blankets nearly all of Northeast Ohio.
At WAKR, the "Akron General Good Health Hour" has aired most recently at 10 AM on Saturdays, part of the station's "At Your Service" talk/information block…which also replays on Sunday evenings.
Powell notes that Akron General pays for the airtime on WAKR, and though she says "terms were not disclosed" in the WTAM deal…we presume it's the same story at Oak Tree due to the nature of such shows…
NEW YOUNGSTOWN RADIO: There'll be a new radio signal on the air in Youngstown, as a construction permit has been issued for a new FM translator in that Mahoning Valley city.
Lance Venta at our content partner RadioInsight tells us that Wisconsin-based Starboard Media Foundation gets a CP for W258CK/99.5 Youngstown, with a 250 watt facility.
It's currently listed as a rebroadcaster for Forever Broadcasting's WWGY/95.1 in nearby Grove City PA, but don't expect country formatted "Froggy 95″ to show up on 99.5.
Starboard operates Catholic radio network "Relevant Radio", which we presume will be heard on its new Youngstown translator.
It'll be the second radio station with Catholic-focused programming in the Youngstown market, as Living Bread Radio's WILB-FM/89.5 Boardman (sister to WILB/1060 Canton) hit the airwaves last year.
The 250 watt signal on 99.5 won't be very high on its antenna, presumably to limit its coverage in regards to Clear Channel country powerhouse WGAR/99.5 in Cleveland.
The Mahoning Valley has suddenly become active on the translator front in the past year.
Just last month, we gave word of a new construction permit for another 250 watt Youngstown translator, Clear Channel's W263CL/100.5.
And still out there is Helen Bednarczyk's Niles-licensed translator W232AI, which obtained a construction permit for a 200 watt facility at 93.7.
As far as we know, that translator has not aired yet in any form, even as licensed at 2 watts on 94.3 FM.
Bednarczyk is reportedly the wife of Bernard Radio Youngstown general manager Skip Bednarczyk, and the CP for W232AI at 93.7 lists Bernard's WGFT/1330 Campbell as the station's primary.
WGFT is still silent, according to an STA filing earlier this year…